In 2014, over 54 million Americans paid gym membership fees, and actual gym visits exceeded 5 billion. Americans are most health conscious than ever, and the health and fitness industry is booming.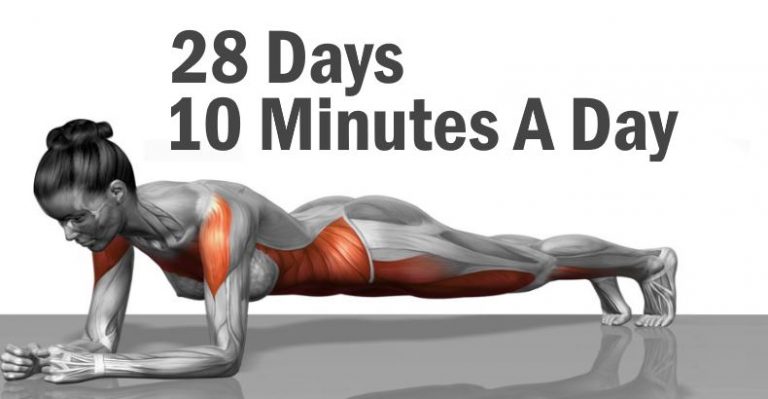 Many Americans will spend countless dollars on gym memberships, supplements, expensive diets and workout routines, while others will choose to stick to a routine that is simple and cost effective. They will eat less, making healthy meals, and perform exercises from the comfort of home.
These 5 exercises require no equipment, however if they are performed daily you will see improvements in your waistline and overall body in less than one month! While progress can seem slow at times, if you start today and remain committed to including these in your daily routine, you will see a change.
The Exercises
Push-ups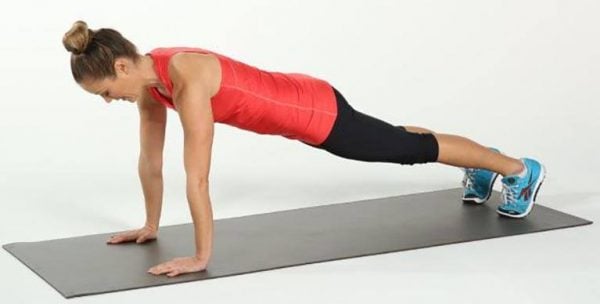 A well recognized workout, push-ups will target all body muscles, working to strengthen the entire body. Begin on the ground, lying on your stomach with your feet straight behind you and your hands beneath your shoulders, elbows bent, ready to support your body weight.  Remember to keep your back, legs and buttock in a straight line. Push your body up, straightening the arms and supporting your body weight. Slowly lower your body back down until you are an inch off the ground, and then repeat.
Squats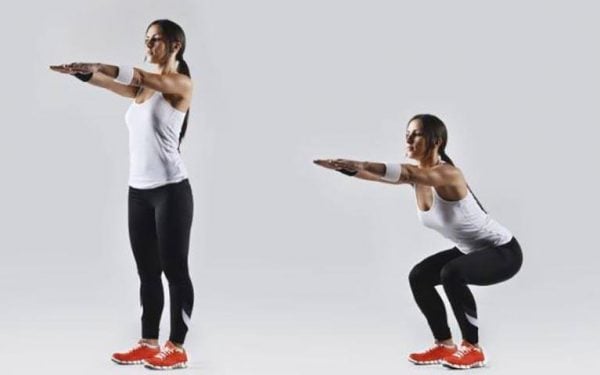 Squats are a great way to strengthen your core while building the hams, calves and quads. Stand with your feet shoulder-width apart. Pull your shoulders down and back, lining your back up in a straight line. Slowly bend the knees, bringing your hips forward. You will want to lower your body down until such time that you are able to bring your thighs into a parallel position to the floor. Remember to continue to keep your back straight at this time! Pressing through the heel of your food, stand back up to your starting position.
Plank

The plank works to strengthen your shoulders, while also focusing attention on your abdominal muscles. Begin on the ground in a push-up position. Bend your elbows to 90 degrees, supporting your weight. Keep your entire body straight, hold this position for as long as possible for optimal impact.
Bird-Dog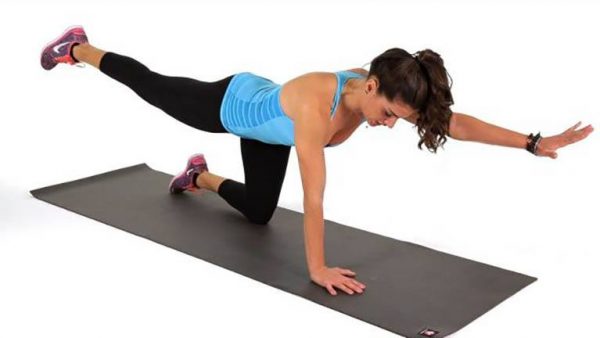 The Bird-Dog is an exercise that has been found to strengthen both your abdominal muscles as well as your lower back. Begin in a plank position, propping yourself up on your hands and knees. Slowly stretch one leg, and the opposite arm directly out simultaneously. Continue to keep your body balanced in the plank position during this time. Hold the stretched portion for a few seconds before returning to your original position.
Lying Hip Raises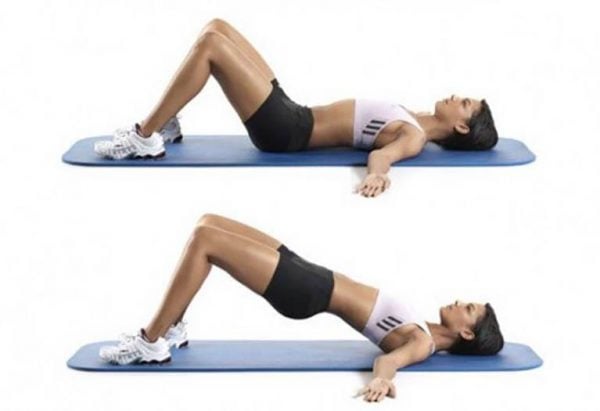 Strengthen your hamstrings, glutes, back, abs and thighs by including lying hip raises into your workout routine. Lie down on the floor, on your back. Bend your knees, keeping your feet upon the floor. Extend your arms out at a 45 degree angle, elevating your hips and squeezing your glutes.
The 4-Week Exercise Routine
This specific workout routine will include two basic workouts, alternating between the two to strengthen your entire body. This workout will energize your body and encourage good health.
1st Workout
Plank: 1 minute
Push-ups: 1 minute
Squats: 2 minutes
Bird-Dog: 1 minute
Lying Hip Raises: 1 minute
Plank: 1 minute
Push-ups: 1 minute
Squats: 2 minutes
2nd Workout
Plank: 3 minutes
Bird-Dog: 3 minutes
Lying Hip Raises: 3 minutes
Push-ups: 1 minute
Rest for 15 seconds!
Week # 1
1st day: 1st workout
2nd Day – 2nd Workout
3rd Day – 1st Workout
4th Day – 2nd Workout
5th Day – 1st Workout
6th Day – 2nd Workout
7th Day – rest
Week # 2
1st Day – 2nd Workout
2nd Day – 1st Workout
3rd Day – 2nd Workout
4th Day – 1st Workout
5th Day – 2nd Workout
6th Day – 1st Workout
7th Day – rest
Once you have completed the first 2 weeks, return to the beginning of this routine again, ensuring that regardless of how many rounds you complete, you end on a 'second week.'